Popular Examples of Specialties – More Available

BIRTHSTONES
– inserted into any of our full shell or open face crowns.


GOLD ACCENTS that can be inserted into our open face gold denture crowns or our stock Artic plastic denture teeth.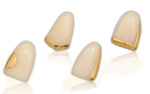 GOLD Onlays: A stylish way to add a touch of gold to any plastic denture tooth. They can be designed in many different arrangements.